To ensure the well-being and safety of all staff and patrons, and in consideration
of the proper care of public property, the Library Board of Trustees has approved a Code of Conduct, which is linked below, along with our Privacy and Collection Development policies.
Your Right to Information
We endorse the American Library Association's Bill of Rights and adhere to the premise that a person's right to use a library should not be denied or abridged because of origin, age, background, or points of view.
Loan Periods and Fines
Refer to the chart below for loan periods, item limits, and overdue fines.
The maximum number of items that may be checked out on a patron's card at any one time is 75.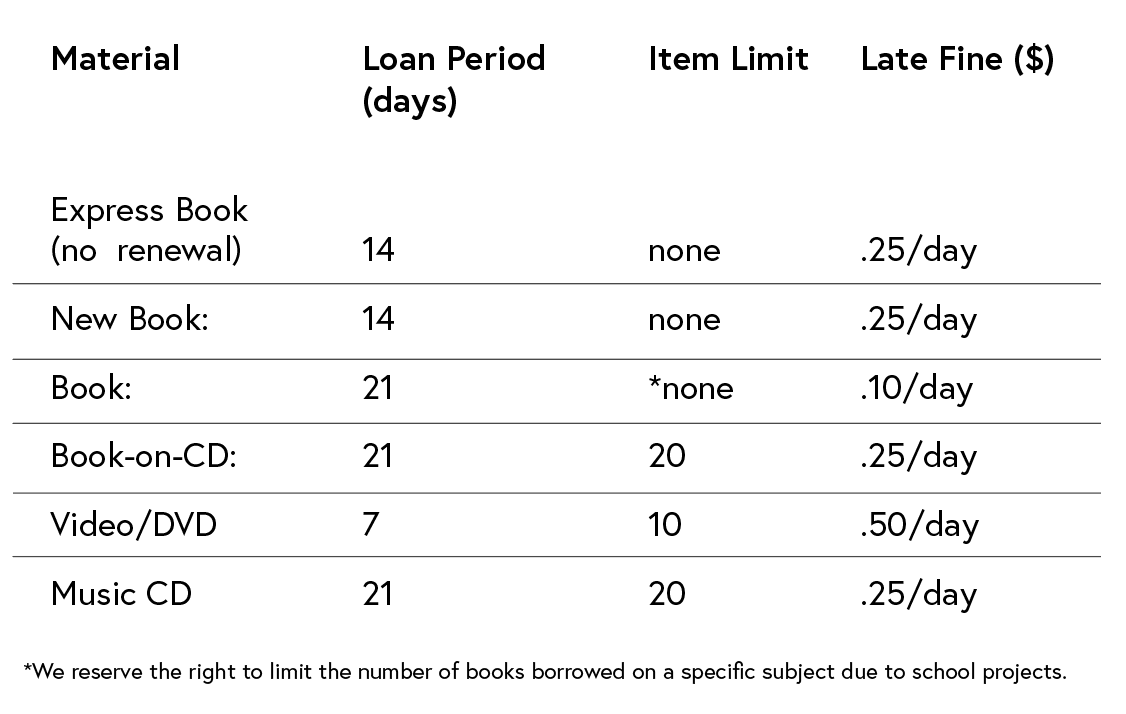 Borrowing Guidelines
Reserves (Holds)
All Westchester public libraries share circulating materials. If an item is in the WLS catalog but is unavailable at our Library, either because it is checked out or because we do not own it, you may reserve the item by placing a hold. Reserved items may be picked up at any WLS branch. You will be notified by phone, e-mail, or text when the item arrives. Reserves can be placed online, by phone, or in-person request at the Circulation Desk.
Renewals
Renewal periods vary, but are generally for the same term as the original loan period. Renewals can be placed online, by phone, or by in-person request at the Circulation Desk.
Inter-library loans
If an item is not available in the catalog, we may be able to find it at a library outside the WLS, and borrow it through inter-library loan. Please inquire at the Reference Desk or submit your request via the WLS website.
Returns
When the Library is closed, you may return materials (including items borrowed from other WLS libraries). Books go in the designated drop boxes: one by the main entrance and the other curbside, at the bottom of the path leading to the building. Audiovisual materials go in the designated drop box next to the main entrance.
Lost/damaged items
Please report these occurrences to the Library, by phone, or email. There is a replacement fee.
Blocked accounts
Overdue fines are assessed to help keep materials circulating. If fines accrued reach an unacceptable level, the cardholder will be unable to borrow items until the fines are paid. Library staff will notify you if your account is in such arrears.