The Library, while committed to providing an oasis of calm and quiet, enthusiastically makes room for discussion and engagement. Our programs — always free — represent a range of interests as eclectic and inclusive as our community. Supported by the Friends organization, the Library screens films, presents concerts, holds art workshops, and hosts author talks and lecture series.
Planning such events, we have the enviable advantage of a rich pool of resident talent upon which to draw: writers, scholars, educators, scientists, musicians, and other accomplished individuals eager to share their expertise and experience. Widespread attendance by the public enlarges the scope of the Library and affirms its pride of place in village life.
A Swim in a Pond in the Fall
Wednesdays beginning October 13
7:00 p.m. – 8:00 p.m.
In this seven-week session, 12-15 Hastings readers will engage with the Great Russian short stories discussed in George Saunders' A Swim in a Pond in the Rain, published this year.  Moving among our fictive landscapes – bitterly cold nights in the snow, carriage roads full of muck, and that glorious pond in the rain — we'll look into the craft of these stories as we consider some broad-ranging questions: Can people actually change? What defines happiness? Are we capable of sacrifice? Are reactions more important than actions? How do we form our judgements?
We will meet virtually for seminar-style discussions. Preference is given to those who are able to attend all or most all sessions and to those who register early. Participants are asked to do the reading, be on-screen, and contribute to the conversation.
Discussion will be facilitated by Tim Donahue, who teaches high school English at the Ethical Culture Fieldston School, and who feigns no expertise in Russian Literature, but simply wants to begin conversations about edifying ideas. As such, you can expect to be guided by reading questions in advance. (No essays to write though!) Through the sessions, we'll likely be visited by guests who indeed are scholars in the field.
Here are the stories we'll read and discuss. All are found in Saunders' book (we'll use those translations), whose supplemental essays you can also read if you choose.
In the Cart, by Anton Chekhov, The Singers, by Ivan Turgenev, The Darling, by Anton Chekhov, Master and Man, by Leo Tolstoy, The Nose, by Nikolai Gogol*, Gooseberries, by Anton Chekhov, Alyosha the Pot, by Leo Tolsoy 
 *We may switch this one out
Classes will meet on 10/13, 10/20, 10/27, 11/3, 11/10/, 11/17, and as the last Wednesday falls right before Thanksgiving, we can decide when this last meeting would be.
To register, please email hastingslibraryevent@gmail.com.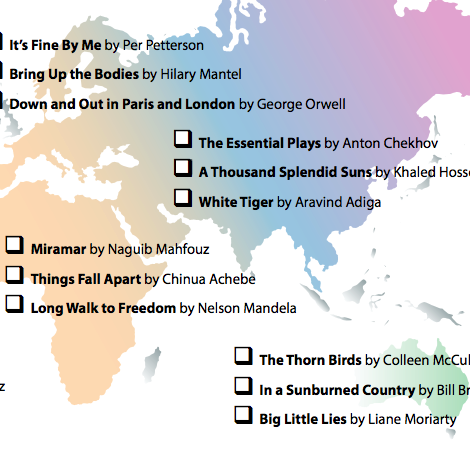 Where the Library went this summer: Around the World in 88 Days
North America:
South America:
Europe:
Asia:
Africa:
Australia: